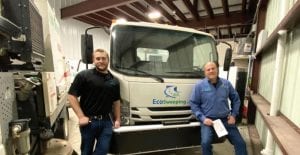 EcoSweeping is located in Colorado Springs, Colorado and provides services to Manitou Springs, Woodland Park, Fountain, and Monument, Colorado. Eco Sweeping was founded and is still owned today by Mark Chamberlain. From here, Mark will tell the story of EcoSweeping in his own words.
After selling my first business at the age of 27, I found myself wondering what to do next. A friend of mine had purchased a sweeping business in Denver, Colorado and asked if I would be interested in partnering with him to expand into the Colorado Springs area.
After about a year, he and his partners had decided the sweeping business was not for them, so they put the business up for sale. I had been researching the sweeping industry, because of their offer. Somewhere around 1999, I started looking online for street sweeping equipment. During my search, I located a Tymco 210 that was for sale in Denver, Colorado from Armstrong Sweeping.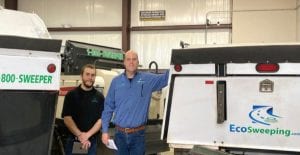 When I reached out to Armstrong Sweeping to purchase my first sweeper, I met Kerry Armstrong. his wife Marsha, and their son, Mitch. I quickly discovered Kerry Armstrong to be a great man, and whether he knows it or not, he turned out to be a great mentor as well. Kerry took me to the parking lot and taught me how to operate that Tymco 210 for about 15 minutes and then said, "Hit the road, kid." Once I returned to Colorado, I started sweeping friend's lots, just for the practice. Kerry has been there all of these years when I've had questions, or needed advice along the way.
It took about two weeks to find my first paying property. I still have that customer today,  over twenty years later. As we now develop the construction side of our business, it is only appropriate that Mitch Armstrong of Armstrong Sweeping, Kerry's son, has now taught my son, Sam Chamberlain, how to drive a broom sweeper truck that we just purchased from Armstrong Sweeping. Mitch also introduced us to the 1-800-SWEEPER organization, which has provided us with resources, knowledge, purchasing power, marketing connections, and growth that we never could have realized on our own in such a short time.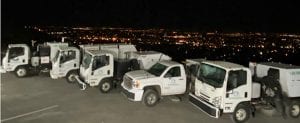 We currently have three vacuum trucks and two mechanical broom trucks for a total of five vehicles. Our current size affords us the reliablility of having backup equipment to maintain the dependability that our customers have come to expect from us.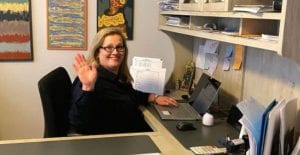 My wife, Becky Chamberlain and I are the ownership and management team. Becky and I have been together since we were both fifteen years old. We've raised three boys. Once our children grew up and started moving on with their lives, Becky became more involved with the business management, which has resulted in growth that has surpassed what I had done myself. 
Our motivation comes from a lifetime of working together as a team, building a family and business that we are very proud of. We pride ourselves on timely responses, quality workmanship, clear communication, and loyalty. Since we are in a small market, my family and I run into our customers at grocery stores and restaurants regularly. We are very proud of the relationships we have built in our community. We cherish those relationships!
We currently have ten employees. Our middle son is supervising our crews and plans to take over the business someday.
We do plan to continue to expand our services, so we are contantly watching the local economic growth closely as we implement each step of our expansion.
Our personnel are on call 24 hours a day, 7 days a week, with services available on a daily, weekly, monthly, or as needed basis.
Some of Our Valued Customers