Colorado Springs Street Sweeping
We are delighted to share exciting news with you! EcoSweeping, a leading provider of power sweeping and commercial property services, has recently acquired Clean Sweep of Colorado Springs, a trusted and established company of 50 years in the region. As the owners of EcoSweeping, we would like to extend a warm welcome to all of the existing Clean Sweep clients. The acquisition of Clean Sweep represents a significant milestone for EcoSweeping's 24 year history. With
Read More »
EcoSweep, Inc, Colorado Springs Parking Lot Sweeping, Street Sweeping, SWPPP and BMP Services.
EcoSweeping has grown through the years based on strong, long-lasting business relationships with property managers within our local community. We take pride in seeing a freshly swept lot as we drive in our neighborhoods in Colorado Springs and the beautiful areas that surround us.
Benefits of Street Sweeping
Through removal of trash and toxins off of streets and roadways, the quality of life for workers, customers, and residents is improved.
Street and parking lot sweeping reduces runoff and improves water quality
Rental properties benefit by having clean parking lots and clean water systems reduces pests and allergens.
Maintaining streets to be free of hazardous materials or flammable items, such as tree trimmings, reduces fire risks for neighborhoods.
We are open 24/7 and can handle all of your sweeping services, property cleaning and maintenance needs. Our services include:
Choose EcoSweeping for Street Sweeper Services
EcoSweeping provides Industrial-grade, full-service street sweeper services. Specializing in Industrial Sweeping, Construction Site Sweeping, Municipal Street and Roadway Sweeping and Commercial Property Sweeping with SWPPP and BMP EPA Services.
In addition, we offer water quality management services to reduce runoff and improve water quality, as well as facilities maintenance including the care of parking lots, grounds and vacant properties.  Contact EcoSweeping, Inc.  today or call us at (719) 210-1335 for more information.
Be sure to send us your emergency contact information on a regular basis. When the unthinkable happens to your property after hours, we are usually the ones to identify the issue. Make sure we have the proper contact information in our database so that we can take care of emergency notifications and services as soon as possible.

Our Nite-Hawk regenerative air sweepers can hold up to four yards of debris and are equipped with satellite tracking systems as well as internal water systems to help reduce dust emissions. These trucks are great for general sweeping on lots that are mid to large size. Since this is a single engine sweeper it is the quietest sweeper on the market, there is not much these machines cannot pickup!

We also offer the Elgin Broom Bear Mechanical Sweeper for heavy road and construction sweeping. Road construction contractors need sweepers that can handle all manner of heavy material including broken pavement, asphalt and concrete millings, mud and construction debris. What ever your sweeping needs we have you covered.
Emergency Street Sweeping
Road Construction Sweeping
Commercial Construction Sweeping
Residential Construction Sweeping
HOA Residential Sweeping
Retail & Office Sweeping
Medical Parking Sweeping
Industrial Sweeping
Government Sweeping
Box Store Lot Sweeping
Trash Bag Removal & Replacement
Post-Tenant Clean Out
Light Bulb Replacement
Sidewalk Blowing

Bulk Refuse Removal
Abandoned Debris Hauling
Furniture Haul Off
Large Item Removal
Our personnel are on call 24 hours a day, 7 days a week, with services available on a daily, weekly, monthly, or as needed basis.
Our reliable, value oriented sweeping services serve a diverse customer base including national and regional facility management companies, regional home builders, municipalities, state highway departments and local area contractors. The 1-800-SWEEPER organization has brought sweeping companies from coast to coast under a unified marketing and service structure. Partners each operate their business under their own name, but we all have the same mission - providing our valued customers with quality, reliable power sweeping services that exceed expectations. This structure gives customers piece of mind and the knowledge that our entire organization strives to meet ethical and educational standards unparalleled in the power sweeping industry.

Our goal is to be your complete power sweeper service solution.

Call us to schedule service today!
North American Power Sweeping Association The North American Power Sweeping Association (NAPSA) is a nonprofit association made up of contract sweepers, service providers and sweeping equipment dealers, manufacturers and suppliers. NAPSA is dedicated to providing beneficial support to the membership and enhancing services to the sweeping industry.

With centuries of combined experience, the member companies of the North American Power Sweeping Association (NAPSA) know that there's only one sustainable way to compete: by doing business the right way. By becoming a NAPSA Certified Sweeping Company, you can show your customers and prospects that your company's dedication to quality goes far beyond lip-service.

We are proud to be a Certified Sweeping Company and NAPSA Member.
Colorado Springs Sweeping News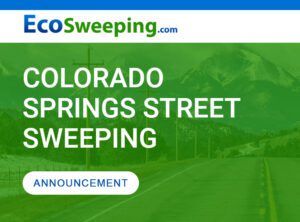 We are delighted to share exciting news with you! EcoSweeping, a leading provider of power sweeping and commercial property services, has recently acquired Clean Sweep
Read More »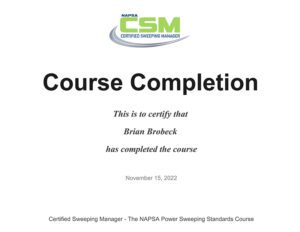 Eco Sweeping wishes to congratulate Brian B. on receiving his Certified Sweeping Manager (CSM) program certification. This is offered by the North American Power Sweeping
Read More »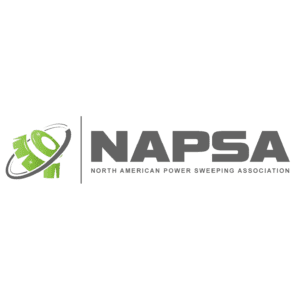 What Is NAPSA? At EcoSweeping, we are very proud to be a member of the North American Power Sweeping Association. We are doubly proud that
Read More »
Some of Our Valued Customers